I drew this cat using the app 'Paper by 53' on September 4, 2012.
It was inspired very directly by the instructions in Carla Sonheim's Drawing Lab book (amazon link)
I first heard about her in an interview with her and Sean D'Souza.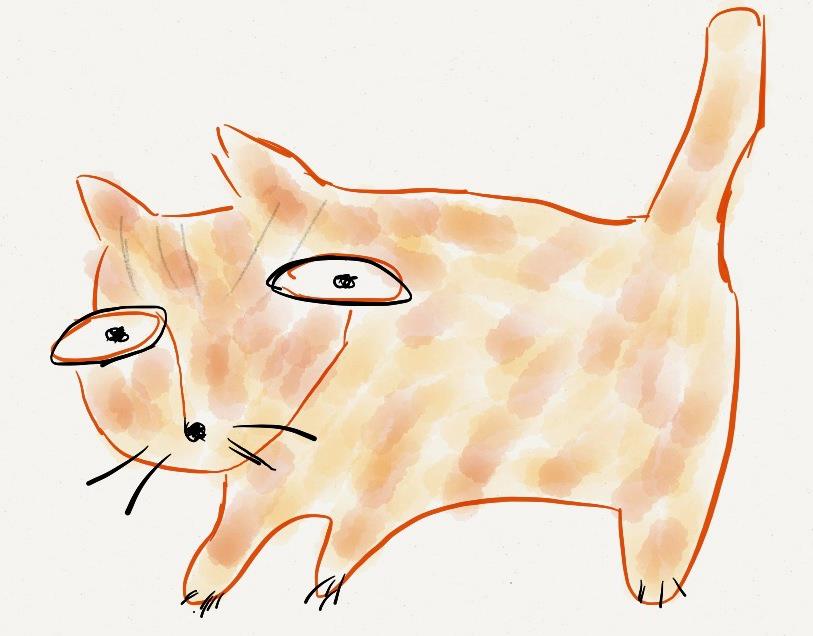 Posted it online, and this is the commentary I got,
Laura Jean Bischoff Is it Garfield?
Neal Battaglia nope, not what I had in mind anyway.
Laura Jean Bischoff You should name it Garfield
Neal Battaglia haha, perhaps, doesn't have a name yet
Mike Cortina Looks like…ME !
Neal Battaglia haha, maybe I should name it Mike. Or at least do another version with shades and a sax!
Ginger Ellen Neil make a children's book with this character!!! I love it!!!
Sean D'Souza NIce smile emoticon I see the book is already helping.
Michael Gamboa Great drawing Neal! Keep up the good work!
Naomi Kuttner Which book is this please? Nice cat!
José Manuel Mora Fandos I like it!
Adianez Natalie is he sick?
Neal Battaglia nah, maybe drank some coffee or something
Adianez Natalie ahahah cool!
José Manuel Mora Fandos most likely tea